2022 Key Stage 4 Examination results
Year 11 results
In 2017 English Language and Literature and Mathematics were the first GCSE subjects to be graded on the new 9 – 1 scale. The table below shows how the new scale compares to the 'old' GCSE scale, eg a GCSE grade 'A' is equivalent to a '7', and a grade 4 is equivalent to a C. Vocational subjects continue to be graded as Distinction*, Distinction, Merit, etc.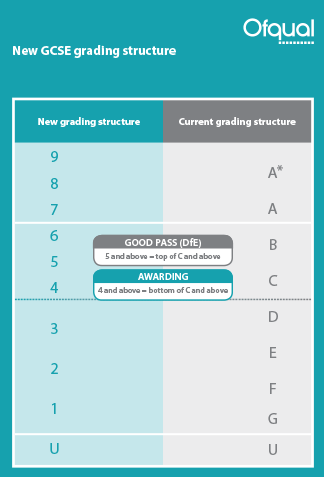 The national headline measure against which all schools are judged is called Progress 8. This measures the performance of individual students' against their performance in eight subjects. These subjects are:
English
Maths
3 EBACC subjects (any 3 from Geography/History/Computer Science/Science and a Modern Foreign Language)
3 other qualifications
Progress 8 aims to capture the progress a pupil makes from the end of primary school to the end of secondary school. It is a type of value added measure, which means that pupils' results are compared to the actual achievements of other pupils with the same prior attainment. The new performance measures are designed to encourage schools to offer a broad and balanced curriculum with a focus on an academic core at key stage 4, and reward schools for the teaching of all their pupils, measuring performance across 8 qualifications. Every increase in every grade a pupil achieves will attract additional points in the performance tables.
Attainment 8 will measure the achievement of a pupil across 8 qualifications including mathematics (double weighted) and English (double weighted), 3 further qualifications that count in the English Baccalaureate (EBacc) measure and 3 further qualifications that can be GCSE qualifications (including EBacc subjects) or any other non-GCSE qualifications on the DfE approved list.
BASICS measure this is the percentage of students who in the 2019 examination results achieved a grade 4 or better in either English Language OR English Literature and Mathematics categorised as a a 'Standard' BASICS Pass. A 'Strong' Pass is a grade 5 or better in either English Language or Literature AND Mathematics.
English Baccalaureate 4+ a grade '4' in 5 subject groups (English Baccalaureate 5+ a grade 5 or better in each element):
English
Mathematics
Modern Foreign Language
Geography or History
2 Science qualifications (which can include Computer Science)
2022 Examination Results
Following the national lockdown due to the Covid pandemic all A level and Key Stage 4 examinations were cancelled. All schools were required to prepare Centre Assessment Grades (CAGs) which would be internally moderated to reflect a realistic exam outcome for all students in all subjects. Following the decision by the Government to abandon a complex computer programme (which would have been used to determine all grades to ensure parity with previous years national results), all students were subsequently awarded their CAG grades.
The Government decided that there would be no national performance tables so the link listed below will only present OSCA data from 2019.
Compare Schools Performance here
| | |
| --- | --- |
| Measure | OSCA 2022 Final Results |
| Progress 8 | 0.27 |
| BASICS 5+ (Strong Pass) | 40% |
| BASICS 4+ (Standard Pass) | 67% |
| EBACC entry | 54% |
| EBACC APS | 4.2 |
| Grade 9s | 71 |
| Grade D*2 | 85 |
| | |
| --- | --- |
| Measure | OSCA 2020 Final Results |
| BASICS 5+ (Strong Pass) | 41% |
| BASICS 4+ (Standard Pass) | 62% |
| EBACC entry | 45% |
| EBACC APS | 4.10 |
| Grade 9s | 57 |
| | |
| --- | --- |
| Measure | OSCA 2019 Final Results |
| Progress 8 | +0.04 |
| BASICS 5+ (Strong Pass) | 29% |
| BASICS 4+ (Standard Pass) | 55% |
| EBACC 4+ | 26% |
| Grade 9s | 56 |
| % staying in education or entering employment after KS4 (This is revised data for 2017/18 (2016/17 leavers) | 92% |